ANNOUNCEMENTS – Service and Event Updates
WHAT
Congress is trying to force Americans to pay for abortion.
HOW
The Hyde Amendment and similar laws have protected taxpayers from funding elective abortion for 45 years. Now, powerful members of Congress want to take away these laws that both Democrats and Republicans have supported for nearly half a century.
WHAT HAPPENS WITHOUT THESE PROTECTIONS?
Billions of taxpayer dollars could be used to pay for abortion.
TAKE ACTION
Sign the petition to Congress!  Watch Video Here
PETITION
Save Hyde. Save lives.
Taxpayer dollars should NOT pay for abortion.
The majority of Americans agree with this – both Democrats and Republicans.
For 45 years, the Hyde amendment and similar laws have protected taxpayers from being forced to pay for elective abortion.
The Hyde amendment has been signed into law every year since 1976, whether the Congress and the White House were led by Republicans or Democrats. ​
The Hyde Amendment has saved nearly 2.5 million babies and mothers in difficult circumstances from the tragedy of abortion. ​
An overwhelming majority of Americans, including low-income women and women of color who are most impacted by it, support the Hyde Amendment and laws that prevent government-funded abortion.
​We urge you, in the strongest possible terms, to ensure that the Hyde Amendment and all similar life-saving appropriations riders remain in place during the 117th Congress and beyond.
​Do not force Americans to subsidize the taking of innocent life. Oppose any bill, including any appropriations bill, that expands taxpayer funding of abortion.
Learn more on the Michigan Catholic Conference website
We continue to Live Streaming Masses from Mount St. Joseph Church Sunday morning at 10:00 a.m.  You can click on the Nativity of the Lord Facebook page or this link www.facebook.com/nativityofthelord/videos
---
Through the hard work, cooperation and commitment of ALL members, Nativity of the Lord will become a Christ-centered stewardship parish that welcomes, worships, teaches, serves and evangelizes.
School Mission:
St. Mary Catholic School, a ministry of Nativity of the Lord Parish is committed to academic excellence and forms children into life-long disciples of Christ and responsible stewards of the parish, the community and the world.
---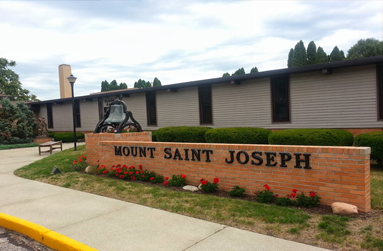 Mount Saint Joseph is located in St. Louis, MI.  Mount Saint Joseph has a beautiful social hall which is used for a number of Nativity of the Lord Parish events.  It also has a large amount of land making it a great place for many different types of activities.  It also hosts a large garden tended by dedicated volunteers to grow food which is given to the poor (and occasionally a few deer).
---
St. Mary School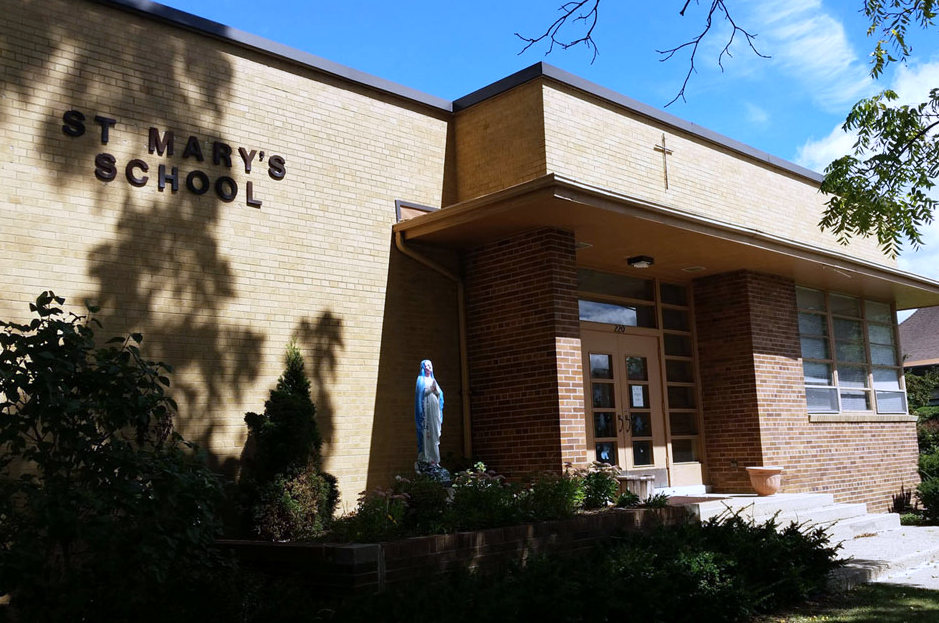 ---
Parish Center
The parish offices are located in the Parish Center across the street from the church at 510 N. Prospect St., Alma, MI 48801
989-463-5370
---
Our mission is to do what Jesus commissions every Catholic to do: "…make disciples of all nations, baptizing them in the name of the Father and of the Son and of the Holy Spirit, teaching them to observe all that I have commanded you. And behold, I am with you always, to the end of the age." (Mt 28:19-20)