Summer Mass Schedule
After feedback and support from Pastoral Council, and after discussions with our diocese and parish staff, Nativity of the Lord Parish will begin a Summer Mass Schedule, with only one Sunday Mass at 9:30am, beginning the weekend of July 7/8. Saturday Mass will be at 4:30pm as usual.
Because Liturgical Ministries are scheduled through June 30/July 1, we will kick off the schedule the weekend of July 7/8. Please spread the word.
Some benefits of a Summer Mass Schedule to pray for include: greater parish unity resulting from parish family members meeting and interacting, fuller and more vibrant Masses, relief for the declining number of Liturgical Ministers, and better stewardship of parish resources.
In hopes of fostering parish unity, we could have Sunday Socials during summer after the 9:30am Sunday Mass if enough volunteers offer to bring donuts or other baked goods, and to setup and cleanup. Please contact the office if interested.
Thank you and God Bless you
Fr. Nate
Mass Intentions
*
St. Bonaventure says,
"Oh Christian souls, do you wish to prove your true love towards your dead? Do you wish to send them the most precious help and golden key to Heaven? Receive Holy Communion often for the repose of their souls."
*
Regarding Mass Intentions, "Each week in the bulletin, you will notice that the various Masses are offered for a particular intention which is listed next to the Mass time. These intentions are requested by individuals usually on behalf of a loved one (living or deceased). This venerable custom stems from a time when priests were provided very little in terms of their subsistence and the faithful would often give the priest a gift (food, money, etc.) in exchange for offering a Mass for one's intention. Today, the priest's salary is included in the parish budget and, at least in our diocese, the Mass offerings are given directly to the parish and are counted as part of the parish income (from which expenses – including the priest's salary – are paid.) Nevertheless, Mass offerings are still a worthy and venerable custom which allows the lay faithful to request the priest's primary intention for a specific Mass. This may be done in the case of a special date (date of birth, date of death, anniversary, etc.) or it may be requested simply without regards to a date."
*
"When preparing for that Mass, the priest looks up the intention and carries that specific intention to the altar as he offers the Body and Blood of Jesus as a Sacrificial offering to… Our Almighty Father."
*
"Due to the constraints of space and time, not all specific requests (for dates) can be honored. We will do our best to honor your request, particularly if the date in question is of special significance. Since many who request a Mass intention would like to be present for that Mass, we are overwhelmed by requests for Sunday Mass, but we are not always able to schedule requested Mass intentions on a Sunday. By Canon Law, each parish priest is required to offer at least one Mass on Sundays and Holy Days of Obligation for the People of the Parish. In our case, that leaves only two weekend Masses which may be requested for special intentions… We are happy to accept, and we encourage Mass intentions, but please be mindful that we are not able to schedule every Mass intention requested for a Saturday or Sunday Mass. We do our best to publish the Mass intentions in the bulletin on the prior Sunday. When you request a Mass intention, you may also ask for some notification about when that Mass will be offered. In the rare event when a scheduled Mass must be re-scheduled (due to a funeral or the unexpected absence of the priest) we will make every effort to notify the person who has requested that Mass to explain the situation. Thank you for your understanding in this matter." If you have further questions, please contact the secretary."
*
(Explanation of Mass Intentions quoted from Fr. Joseph Totton's words)
*
Update 10/18/17
Our Parish Leadership Team had a really good meeting with Bishop Cistone. His sincere hope for us is that we will become a more unified community. He encouraged us to be patient, and not get discouraged. During our discussion, it became apparent that we need to take time to gather more facts. We are also looking into the possibility of a feasibility study. This is different than the last parish survey. The feasibility study will give our parish family members a voice about future use of our facilities. We as the councils will continue to keep you informed and updated.
*****
Our Pastoral Council has scheduled some listening sessions, open forums where Fr. Nate and members of Pastoral and Finance Councils will be present, to listen to parish family members who wish to voice their concerns, questions, and hopes for the future of Nativity of the Lord Parish. No need to RSVP.
Listening Sessions (all held at Mt. St. Joseph Hall)
Tues. Oct. 17, 6:30pm
Thurs. Oct. 26, 6:30pm
Wed. Nov. 1, 7:30pm (immediately following our 6:30pm All Saints Day Mass)
*****
Dear Parish Family Member,
Peace be with you! In a mailing soon to be sent, and below this message, you will find the text of an important announcement given after Masses on Sept. 30/Oct. 1 about our St. Mary church.
[Later, after the announcement below, we discovered we needed to have a parish survey to determine the future of St. Mary church. We are still waiting for the survey company to complete the survey] After much discussion, discernment, and prayer, parish leaders including our pastoral council and finance council and myself have decided to recommend to our bishop that we take down St. Mary church and rectory. This was not an easy decision. I want to acknowledge that many parish family members are experiencing sadness, anger, and various stages of grief. Some have expressed that they feel like God is leaving their area. They're concerned they won't be able to pray in St. Mary church, or visit Jesus in the Blessed Sacrament in the tabernacle. Many have memories of key moments for themselves and loved ones, such as baptisms, first eucharists, weddings, and funerals. Some say they feel like the community in Alma is falling apart because churches are closing. Some are disappointed that this is happening at a time when our world is experiencing more and more violence and natural disasters. The church is a place to come together and support each other during difficult times. Everyone needs to grieve in their own way. Let's support each other in our grief not only through prayers but also through phone calls and conversations. If you don't feel any grief personally, please try to show love to those who may be feeling grief. Remind yourself and others that, "God works all things to the good, for those who love him" (Romans 8:28).
God has beautiful plans for our parish. Also, the devil has plans and we must not forget that. The word "Diablo" means divider. Let's stop the devil from causing division by avoiding any negativity, and focusing on the positive. "Resist the devil and he will flee" (James 4:7). Prayer, including the rosary, is especially effective.
Questions you may have: What about our school? If we do close the church, our St. Mary school will remain open. We offer Mass on Fridays in the gym for students and any guests. Will we ever rebuild a Catholic church in Alma? We will continue to explore options for our parish considering our parish population out financial status and the working of the Holy Spirit in our community. Where would the priest live? In a rental temporarily. What about items in the church such as St. Mary statue? They would not be destroyed; some would be incorporated in our Mt. St. Joseph church.
What is the positive? We are at a cross-roads, a new beginning, in the history of our parish, and parish leaders have many ideas about possibilities to renew our parish. We know God will help us! This is an opportunity to build a stronger parish family and community as we work and worship together. We will continue to grow closer as a family by worshiping and socializing at one church, Mt. St. Joseph. Our school is growing in enrollment. While Sunday giving has gone down, fund-raising for our school is up. We have had five successful months of Eucharistic Adoration on Fridays, with regularly have over thirty — and often over forty — parishioners taking time out of their week to go to Adoration to visit Jesus in the Blessed Sacrament. Ministry to the sick and homebound is thriving. Our Adult faith series "Divine Mercy" had good participation. Our Cohort CAFE series has some wonderful opportunities to grow in faith. We have three youth going to National Catholic Youth Conference in November. There are six people preparing to become Catholic disciples in RCIA! Faith Formation for our youth is up and running. Vacation Bible School this past year was another wonderful experience for all involved.
It's not only up to parish leaders. We need ALL parishioners to get passionate about their parish just as they're passionate about sports, etc. How is God calling you to participate in the exciting things that are happening now at our parish? Look for chances to invite inactive family members back to our parish family and to Jesus in the Eucharist at Mass. We will become a thriving parish family and Catholic community if we work together and pray for our parish. What God wants most is our trust; our lack of trust pains Him. St. John of the Cross says, "We obtain from God as much as we hope for from Him." Let's hope, and pray, for great gifts from God!
In the love of Christ,
Fr. Nate Harburg, Pastor
P.S. Various prayers for our parish you could consider praying
IMPORTANT UPDATE
Below is the entire update regarding Nativity of the Lord Parish – St. Mary Church, as presented by Finance Council Chair Jim Grace and Pastoral Council Chair Brian Devine on Sept. 30/Oct. 1, 2017.
• Leadership changes
Since the departure of Fr. Kevin Maksym in 2010, we have had Fr. David Jenuwine, Fr. Thai Nguyen, Fr. Jim Bessert and Fr. Nate Harburg here in our community. During the time of Fr's Nguyen and Bessert, Deacon Al Oliver was Pastoral Administrator. In that time we also had 4 different Parish Business managers.
• 2015 Survey
In reviewing the results of the survey, the councils recommended to band aid St. Mary Church instead of fully repairing the roof, fixing the damaged block wall, repairing and painting the interior finish, repairing and replacing the carpets and pews as well as doing something about the slope in the floor that is difficult for some of our parishioners. This decision was due to the financial standing of Nativity of the Lord Parish.
At the conclusion of the survey the decision was made to maintain both sites with minimal maintenance.
The only structural improvements done to any of our campus buildings were reactionary in nature, repairing and replacing that which had already failed.
• 24/24 plan and lack of action
Out of the 2015 Survey came the idea to boost various aspects of parish life by 24% in 24 months.
One area that we achieved progress is the area of school enrollment.
• Summer 2017 – Air quality & bats
Concerns from several parishioners regarding bats and potential health hazards were brought to Fr. Nate's and the Diocese's attention. The Diocese of Saginaw reached out after hearing these concerns.
The bats are still not eradicated despite hiring a professional. They are likely coming in from the tops of the spires. This is a much greater expense to handle.
The air quality was found to be acceptable, but there were a number of costly recommendations that need to be completed for liability reasons.
• Continued water damage
The July 2017 rainstorm brought down a large section of ceiling in St. Mary Church, all roof repairs to date have subsequently failed.
Infrared imaging by air quality inspector showed water infiltration in many sections of roof and block walls.
• October counts
Our October count since the merger has continued to decline from 510 in 2013 to 370 in 2016 in total, which is a drop of 27%!
St. Mary location seats approximately 735 parishioners, Mount Saint Joseph seats 300.
• The Pastoral and Finance councils met jointly in emergency sessions to discuss how best to address the concerns regarding Nativity of the Lord Parish
The councils reviewed inspection reports, professional estimates, parish budgets and other pertinent information.
A partial list of needed repairs includes the entire roof including the spires, the water damage to interior coves, floor by the baptismal font, front steps, the interior ceilings in the pods as well as carpet, pews and floor slope, block walls inside/out and caps on top of exterior block walls. In addition if repairs are undertaken there would be code upgrades that would be needed. After undertaking repairs the entire interior of the church should be restored.
When surveyed the councils were nearly unanimous in the need to take down St. Mary Church
• The council's together with Fr. Nate will be meeting with Bishop Cistone on October 16th to recommend St. Mary Church and Rectory are taken down.
• As important as it is to talk about our physical structures, a bigger concern is our parish community, our brothers and sisters that no longer worship with us, and what can we do as a parish to reverse this trend.
• The councils along with all of Nativity of the Lord Parish and Father Nate will continue to explore options for our parish, considering our parish population, our financial status and the working of the Holy Spirit in our community.
Please know this is not a decision that your Parish leadership made lightly without thorough research, consultation and prayer. It is important to recognize that if we were facing the same physical structure issues here at Mt St Joseph, we would be making the same decision for this location.
The real concern is not a roof leak, water damage, or even bat feces. The concern that every one of us as parishioners of NOTL should have is our 27% decrease of parishioners!
What have we done, not as NOTL council leadership but all of us as Catholics living in Gratiot County to reach out to fallen away Catholics? This is something we need to come together and create that sense of belonging.
As a pastoral council we would like to have productive discussions about opportunities for youth and adults that further develop their faith. We hope that our communities will embrace this new journey, as we truly unite as one NOTL Parish to worship, serve and evangelize as disciples of our Lord. It is important how we perceive this information and what we do with this information. I encourage all of us to stay positive work together and avoid fueling negativity that prevents us from uniting further.
***
View the architect's report for our Parish
Use Amazon and raise funds for parish youth ministry!
Purchase Scrip to easily raise funds for our parish faith formation, school, and other areas you designate! Enter our code "467D2BCB445" when you register: https://www.shopwithscrip.com/
Fr. Nate's Bulletin Letters: For 2017; For 2016; For 2015 (Archive)
Parish Vision:
Through the hard work, cooperation and commitment of ALL members, Nativity of the Lord will become a Christ-centered stewardship parish that welcomes, worships, teaches, serves and evangelizes.
School Mission:
St. Mary Catholic School, a ministry of Nativity of the Lord Parish is committed to academic excellence and forms children into life-long disciples of Christ and responsible stewards of the parish, the community and the world.
Parish Stewardship Prayer
Dear God,
please guide Nativity of the Lord parish.
Help us to welcome, to worship, to teach,
to serve, and to evangelize together.
Make our parish a true community of faith,
by encouraging me to be more welcoming.
Call us to worship together,
by motivating me to always attend Mass.
Give us the ability to teach the Catholic faith,
by inspiring me to learn more about You and Your Church.
Motivate us to serve others,
by opening my eyes to see Jesus in every person.
Encourage our parish to evangelize,
by removing my fear of sharing the Gospel.
Help me to share it by my "words, deeds and Christian joy."
Heavenly Father, send Your Holy Spirit
to Nativity of the Lord parish,
that we may truly become a holy family.
Saint Joseph, pray for us.
Mary our Mother, pray for us.
Amen.
---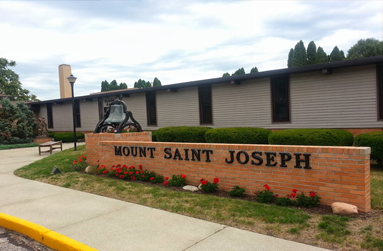 Mount Saint Joseph is located in St. Louis, MI.
  Mount Saint Joseph has a beautiful social hall which is used for a number of Nativity of the Lord Parish events.  It also has a large amount of land making it a great place for many different types of activities.  It also hosts a large garden tended by dedicated volunteers to grow food which is given to the poor (and occasionally a few deer).
---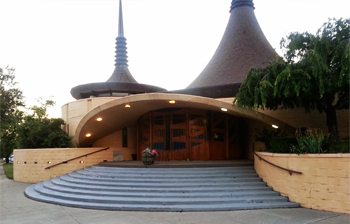 St. Mary's Church is located in Alma, MI.
  The St. Mary's campus has Nativity of the Lord's Parish school (still called 
St. Mary School
).  The parish offices are located in the Parish Center across the street from the church on Prospect St.  The Rectory is attached to the church.

Our mission is to do what Jesus commissions every Catholic to do: "make disciples of all nations, baptizing them in the name of the Father and of the Son and of the Holy Spirit, teaching them to observe all that I have commanded you. And behold, I am with you always, to the end of the age." (Mt 28:19-20)
---
Website Donated By: