IMPORTANT UPDATE
Parish leaders and I are striving to be good stewards of the facilities God has entrusted to us. We are seeking guidance from our diocese and from our bishop, and most importantly, from God in prayer. When I discovered that bat waste can make people sick, and that the church also has black mold, we hired an air testing professional, and a bat control professional. The air quality professional has informed us that the air is safe to breath; however, they have given protocols for proper cleaning of the carpet as well as other recommendations. At this time bats have not been eradicated yet. While I personally would like to return to the use of our St. Mary Church, I have prayerfully decided that it would not be prudent to return before: #1. the cleanup guidelines have been discussed by our Pastoral and Finance Councils at a joint meeting, and #2. the health threat related to bats is taken care of. Our councils will meet next month. Thank you for your prayers for wisdom! We will continue to offer all services at our Mt. St. Joseph Church in St. Louis until further notice. This is for a number of reasons: first of all, and most importantly, Mt. St. Joseph is a church that has been consecrated for Sacred Worship. We are blessed to have two churches for such a time as this. We used our gym last weekend because of the short notice. A much less important reason is that it takes a great deal of volunteer time and energy to set up and tear down the gym for Masses, and the gym will not be available for use every weekend because of coming parishioner events and the beginning of the school year. (Tentative plans for when school starts: Friday School Masses, open to parishioners, will be offered in the gym, because of the amount of time and coordination it requires to transport all students to Mt. St. Joseph)
Fr. Nate Harburg, Pastor
View the architect's report for our Parish
Use Amazon and raise funds for parish youth ministry!
Purchase Scrip to easily raise funds for our parish faith formation, school, and other areas you designate! Enter our code "467D2BCB445" when you register: https://www.shopwithscrip.com/
Fr. Nate's Bulletin Letters: For 2017; For 2016; For 2015 (Archive)
Parish Vision:
Through the hard work, cooperation and commitment of ALL members, Nativity of the Lord will become a Christ-centered stewardship parish that welcomes, worships, teaches, serves and evangelizes.
School Mission:
St. Mary Catholic School, a ministry of Nativity of the Lord Parish is committed to academic excellence and forms children into life-long disciples of Christ and responsible stewards of the parish, the community and the world.
Parish Stewardship Prayer
Dear God,
please guide Nativity of the Lord parish.
Help us to welcome, to worship, to teach,
to serve, and to evangelize together.
Make our parish a true community of faith,
by encouraging me to be more welcoming.
Call us to worship together,
by motivating me to always attend Mass.
Give us the ability to teach the Catholic faith,
by inspiring me to learn more about You and Your Church.
Motivate us to serve others,
by opening my eyes to see Jesus in every person.
Encourage our parish to evangelize,
by removing my fear of sharing the Gospel.
Help me to share it by my "words, deeds and Christian joy."
Heavenly Father, send Your Holy Spirit
to Nativity of the Lord parish,
that we may truly become a holy family.
Saint Joseph, pray for us.
Mary our Mother, pray for us.
Amen.
---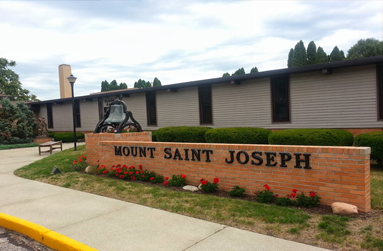 Mount Saint Joseph is located in St. Louis, MI.
  Mount Saint Joseph has a beautiful social hall which is used for a number of Nativity of the Lord Parish events.  It also has a large amount of land making it a great place for many different types of activities.  It also hosts a large garden tended by dedicated volunteers to grow food which is given to the poor (and occasionally a few deer).
---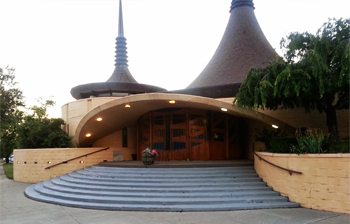 St. Mary's Church is located in Alma, MI.
  The St. Mary's campus has Nativity of the Lord's Parish school (still called 
St. Mary School
).  The parish offices are located in the Parish Center across the street from the church on Prospect St.  The Rectory is attached to the church.

Our mission is to do what Jesus commissions every Catholic to do: "make disciples of all nations, baptizing them in the name of the Father and of the Son and of the Holy Spirit, teaching them to observe all that I have commanded you. And behold, I am with you always, to the end of the age." (Mt 28:19-20)
---
Website Donated By: